Classifieds Page Posting Policy : Posting MG(s) for sale on this website page at no cost is a membership benefit for current MG3 club members.
For Sale 1977 MGB Roadster
1977 MGB low mileage all original except for the Weber carburetor . Arizona car with zero rust. If fact it never had any. Driven four months a year -$3500 firm. Contact Ed Kaufman in Arizona using the following email address.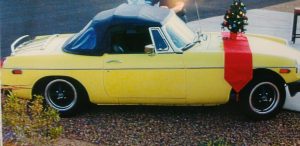 For Sale 1969 MGB Roadster
1969 MG-B Roadster in excellent condition, British Racing Green. Only 16,000 original miles, complete professional restoration by Charging Pony Classic Auto Restoration in 2009. This beautiful MG is wonderful to drive and ready to be enjoyed for many years to come. Contact Chris Sitzman at dasitzman@milwpc.com or 262-627-9195 (call or text).
For Sale 1958 MGA 1500
This car was purchased from a private party in the early 80's and was my tinkering project for 25 years before I had the mechanicals totally replaced by MG Limited and Ed Kaufman in late 2006. The body went through a professional fender-off restoration in the late 80's. The car never had any collision or rust damage, but the paint now has some chips, scratches and solvent popping. That being said, a member of MG3 once called my car as a wonderful " 5-5": It looks great at 5 mph from five feet away.
The car has a very strong MGB 3-main rebuilt engine with an alternator and transistor ignition. Everything from the radiator to the 3.90 differential has been replaced. The car has no shakes or shimmies and stops and tracks straight. The tires were mounted by Habhegger Wheel and Axle who spoke-balanced the wire wheels, and MG Limited rebuilt the "lifetime" shocks. The heater system and top have been removed, and the odometer and fuel gauge do not work.
The car was titled in Virginia when I bought it in the 80's, and I didn't get a Wisconsin title for the car until 2007 when I put it on the road. Since licensing the MGA, I have mainly used it for ice cream runs to Cedarburg (10 miles round trip) and fun drives around Thiensville. At most, I've put 1000 miles on the car since 2007. I'm asking $17,500 OBO for the car. Contact: Bob Blazich 262-242-4653 rblazich@gmail.com